After having such an amazing breakfast bagel from Sunrise Bagel Co. on Thursday, we decided to return on Friday, which was a mistake. When we returned home, my 5-year-old started to eat his bagel (french toast with strawberry cream cheese) only to push it aside and say that it wasn't good.
After a few minutes of back and forth with him, I finally tasted it. The bagel was right – french toast. The cream cheese was right – strawberry. But there was something off about the taste and that's when I spotted it, pieces of garlic all on the top of the cream cheese.
This is just my guess – when they sliced the bagel, they didn't clean the knife off in between. Even a simple wipe would have gotten the pieces of garlic off. Meaning that the bagel that had been prepared right before my sons was garlic. Even my mom's bagel had hints of garlic throughout it – which left hers inedible as well. Such a shame as I had such a delicious bagel from them before.
Feeling a little bit defeated, we headed off of the island to ride around for a bit. We found ourselves at Sundial Coffe & Tea, where I ordered myself a hot chai latte and picked up one of the adorable sea turtle cookies by Blakely Sweets. Full confession – the cookies had been pictured on Sundial's Instagram feed that morning and so I knew that I had to have one.
If we lived closer, I believe that Sundial would become the coffee shop I frequented most often. It was beautiful and cozy inside (and my purchases were delicious).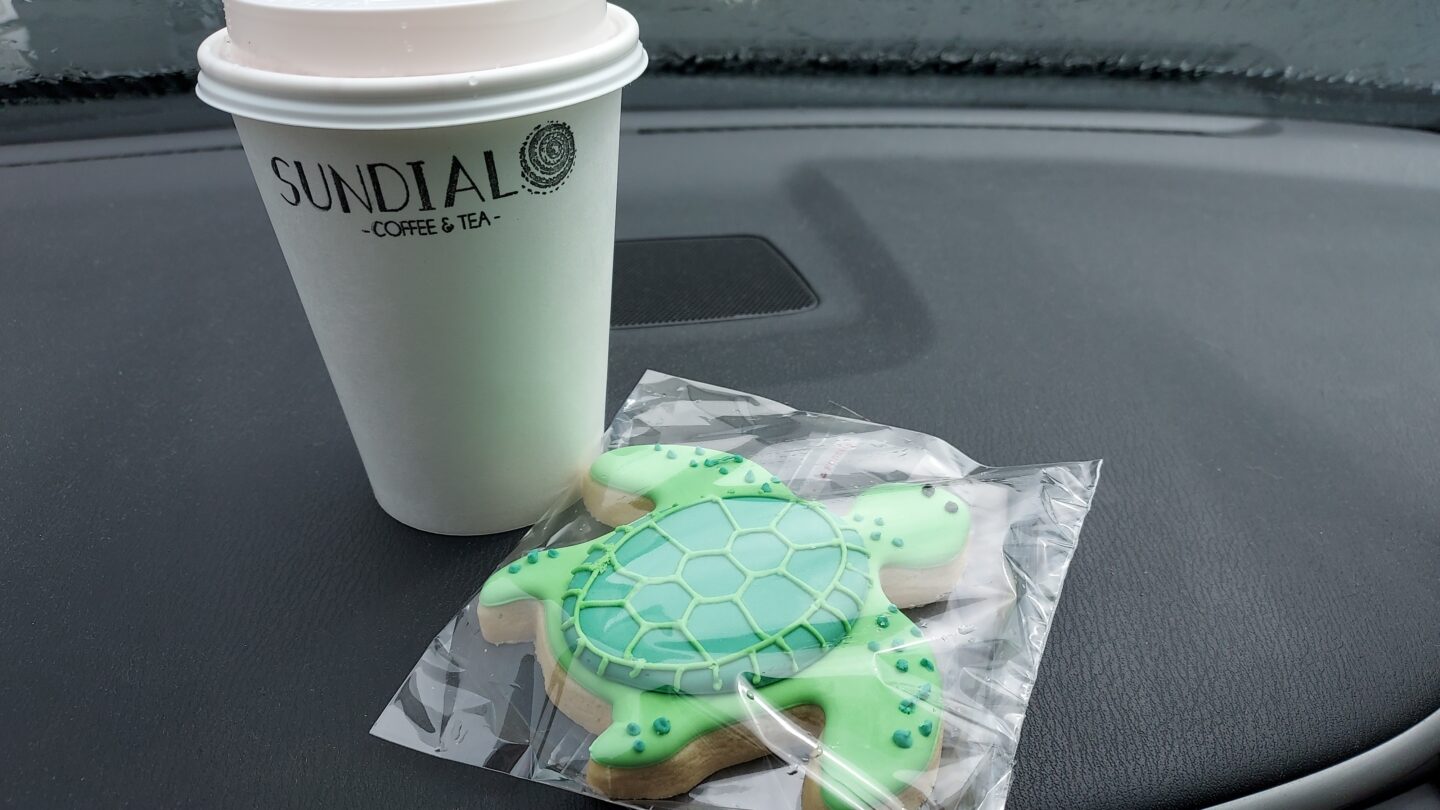 After leaving Sundial, we made our way back onto the island and drove down to Quarter Moon Books & Gifts.
While I browsed the bookshelves, my mom took the boys across the street to a little playground, giving me ample time to carefully select my purchases.
Side note – for all of you pickleball players – the courts on Topsail Island are located down near Quarter Moon Books & Gifts!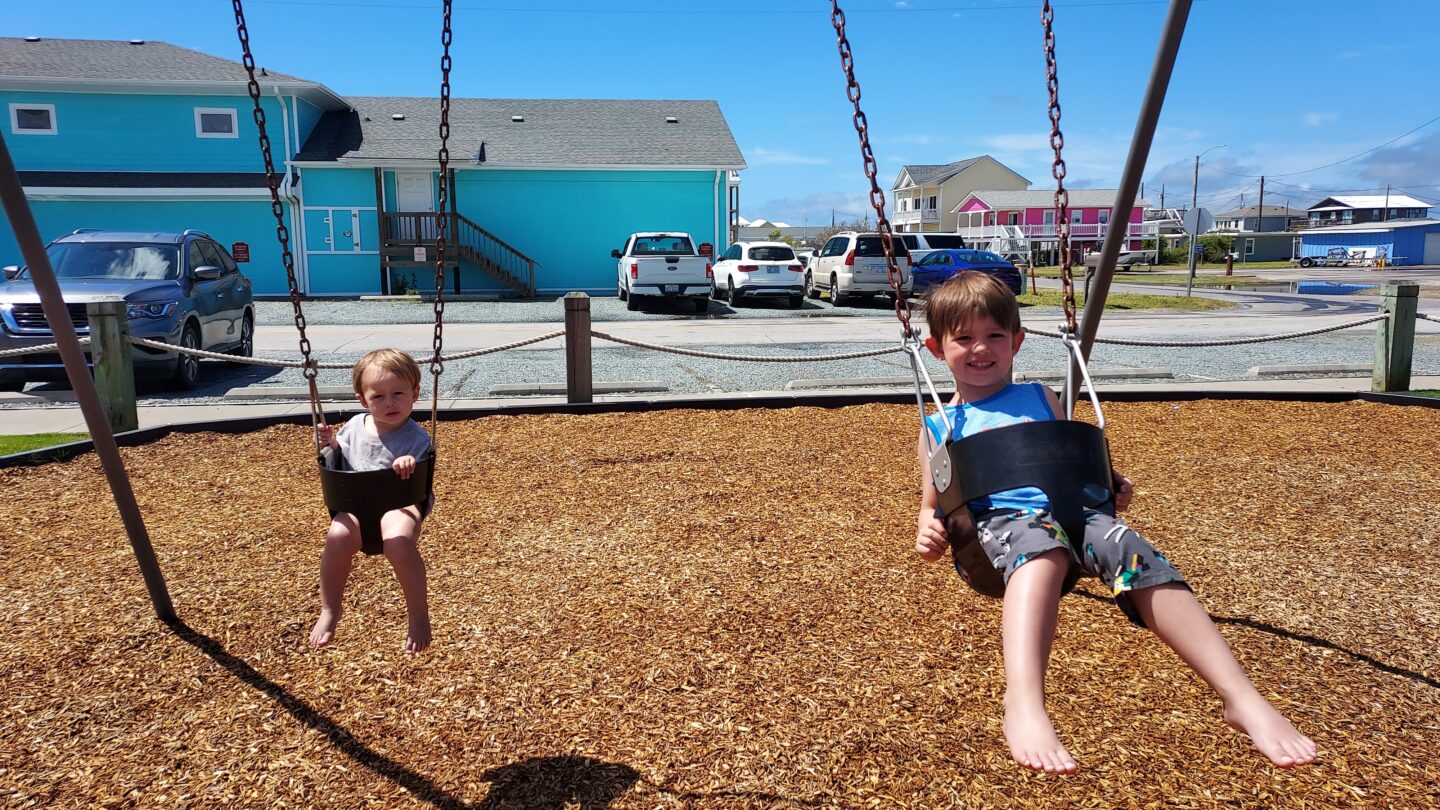 After playing for a bit, it was time for ICE CREAM!
So we headed down just a little way to Patio Putt-Putt the Playground. Part arcade, part ice cream place, part putt-putt, it was a great place for us to spend the afternoon. I went with the Moonpie Sundae (and I confess, I cannot remember the exact name), which was a delicious ice cream sundae!
While the games in the arcade itself were a bit older, and some were out of order, we still had a great time and found plenty for the boys to play.
The two biggest hits were the claw machine (play until you win – thank goodness) and the game where you squirt rubber duckies with water.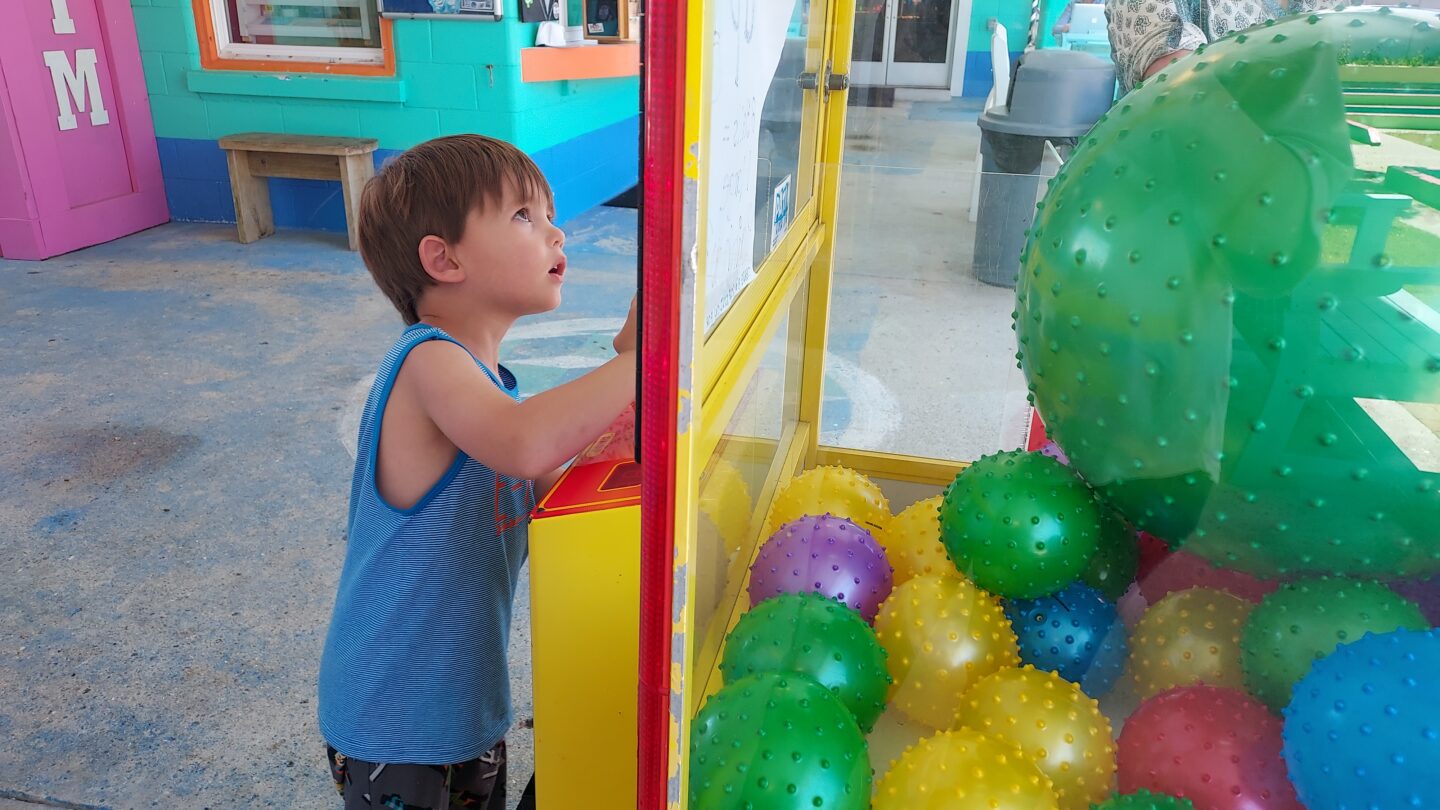 After spending time at Patio Playground, we made our way home, taking the opportunity to relax and veg out until later in the afternoon. Then we walked the boys over to the ocean for their last trip on the beach before heading home the next morning.
Caleb loved the ocean, as was pretty typical, and Rainey started feeling a little braver (it wasn't until our third beach trip later in July that he fully started to enjoy the ocean).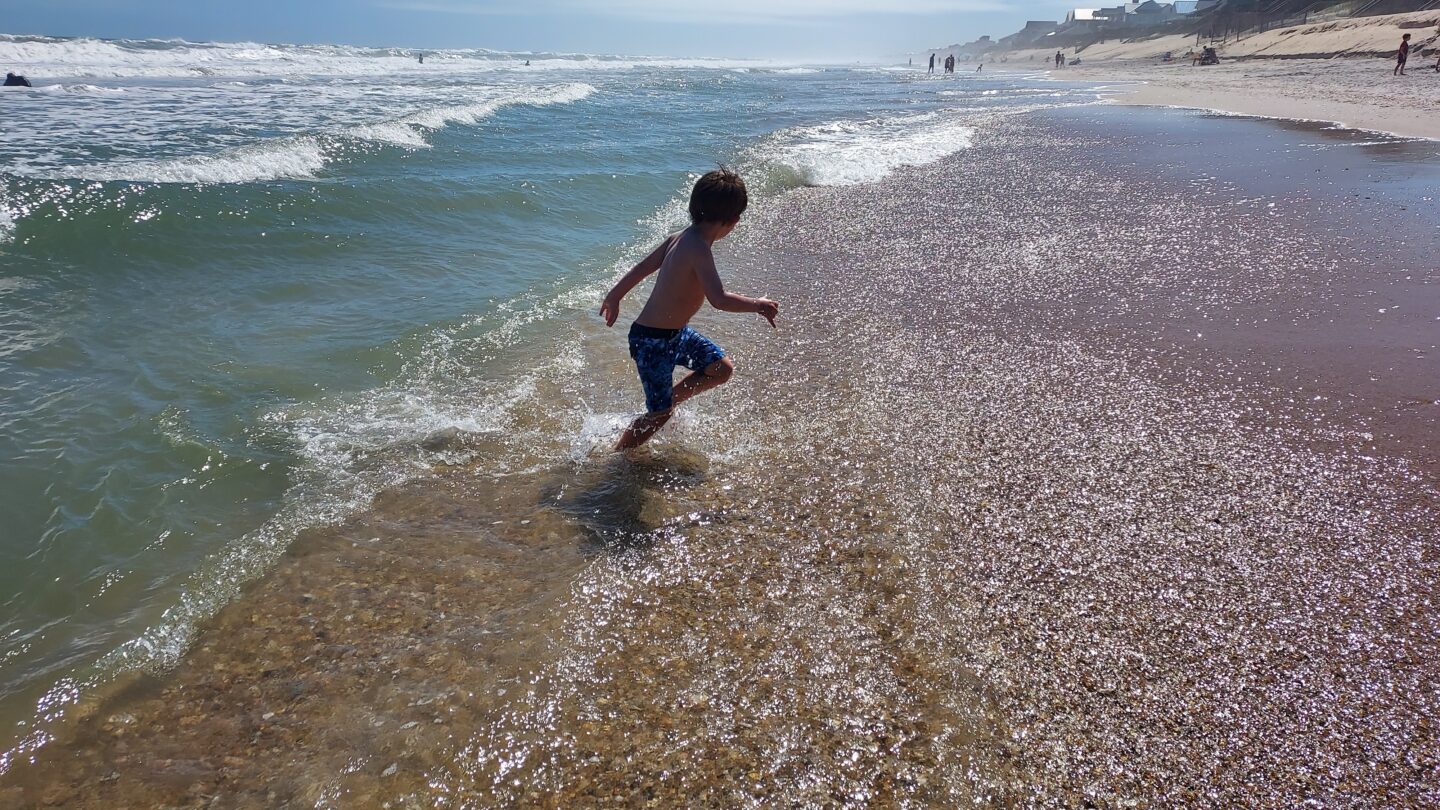 After dinner, which consisted of mainly clearing out the fridge, I took my dog for a short walk on the beach. Water isn't her forte. She prefers to be where she can touch the ground, but the crashing waves made her a little more nervous than not.
But walking her on the beach gave her the opportunity to get away from the beach house and experience some enrichment.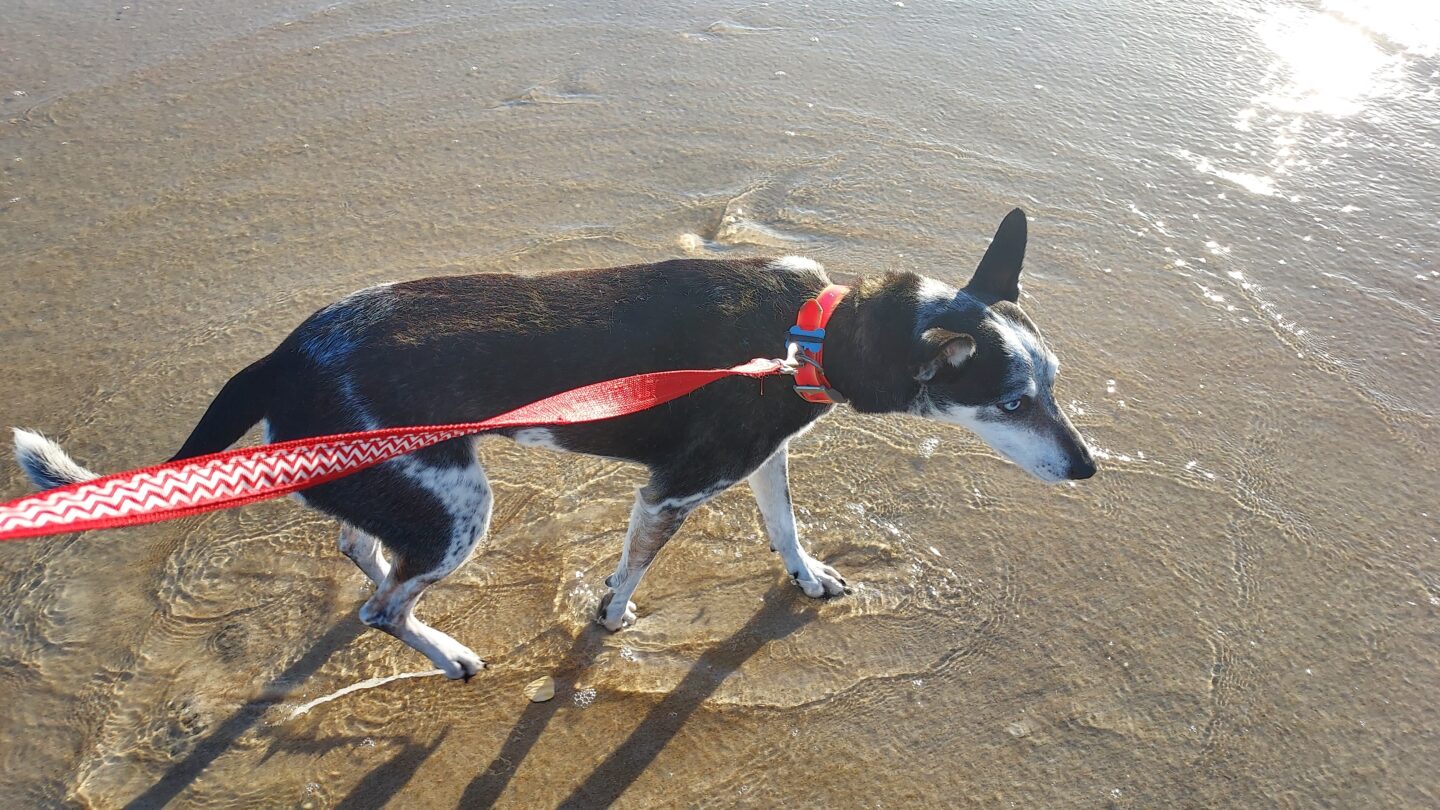 After we returned back to the beach house, we started to pack and clean. We left Topsail early the next morning, making the 5-hour journey home until the next time.
Sundial Coffee & Tea
104 Charlie Medlin Dr.
Surf City, NC 28445